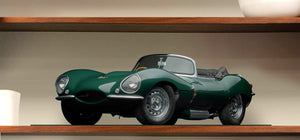 A Motomirage™ is a new type of limited edition art print featuring the world-class photography of Michael Furman. These special prints can be collected and enjoyed in a new way. When displayed on a shelf, these special prints can look very much like an impossibly perfect model. This series consists of only 50 copies per image.
Each double-sided Motomirage is precisely crafted, printed and laser contour-cut on state of the art equipment and packaged in a special limited edition folio case.
This example is the 1956 Jaguar XKss once owned by Steve McQueen. This car is currently housed in the vault at the Petersen automotive museum on LA. We recommend a visit, and the Hagerty Vault tour!